BLACKTOWN MARKETS FOR VISITORS
Every Sunday
6:30am-2:00pm
The Skyline Drive In, Blacktown 33 Cricketers Arms Rd, Prospect
Fortnightly Thursdays
8:00am-2:00pm
Emerton Vaillage Shopping Centre 40 Jersey Rd, Emerton
Information for Shoppers Visitor Entry Fees and Conditions of Entry
We charge a small entry fee for visitors:
From 4:00am-6:30am: $5 per person
By car from 6:30am-9:00am: $3 per person
Pedestrians from 6:30am-9:00am: $2 per person
By car from 9:00am-12pm: $2 per person
Pedestrians from 9:00am-12pm: $1 per person
Kids under 16 are free
YOU HAVEN'T SEEN THE BEST OF SUNDAY MARKETS SYDNEY HAS TO OFFER IF YOU HAVEN'T SEEN BLACKTOWN MARKETS "THE DRIVE IN MARKETS"
BLACKTOWN VINTAGE MARKETS SYDNEY VISITOR INFO
Our markets are held in the historic Skyline Drive In, Blacktown, the last surviving drive-in in the Greater Sydney Area. This makes for up to 240 stalls on a Sunday of collectables, vintage, retro, restored, up-cycled, pre-loved, fashion, bric-a-brac, toys, produce, food stalls and items new and old you, your family and friends can enjoy.
We have musical entertainment, more genuinely international food stalls than you can poke a satay stick at and fun things for the kids. And that's just for starters. We know what pleases Dad may not please Mum, and that bored kids aren't much fun. That's why we bring a bright array of different market stalls together so there's something for everyone.
We've got toy stalls and a Jumping Castle for the kids, live music for Mum and Dad, and an ever-changing mix of stalls to keep the whole family entertained. From fresh produce through to food trucks serving hot food, desserts and snacks there's plenty of food to be had at Blacktown Markets. Our food is as diverse as our audience. We've got everything from Dutch pancakes to Maori hangi and everything in between! Grab great coffee to help with the early morning treasure hunt wake-ups and you're on your way
Since 1994 our Sunday markets have been known as the place to discover a bargain. We've got an amazing array of veteran and vintage bric-a-brac for the collectors, fashion for the ladies, toys for the kids and all kinds of new and used items for sale. With an ever-changing mix of stalls, you're bound to find something you like at Blacktown Markets..
Blacktown Markets is Sydney's largest continuous garage sale trail. With 50 stalls of garage sale items available on any given Sunday, you can forget scanning the paper and driving all over town in search of a bargain. Our garage sale trail brings together people from all over Sydney who are waiting to turn their trash into your treasure.
Adding the little extras to make your shopping experience as convenient as possible is what Blacktown Markets is all about. That's why we offer a testing point for electrical items at the office, post regular updates about what you are likely to see on our website, Facebook and Instagram, and use these channels to let you know of weather cancellations.
While the rest of Sydney is putting restrictions on where you can take your four-pawed friend, Blacktown Markets openly encourage dogs attending our markets. Well trained, on-leash dogs are always welcome at our Sunday markets- even to the point of having their own stalls and special events. It is indeed fun for ALL the family here!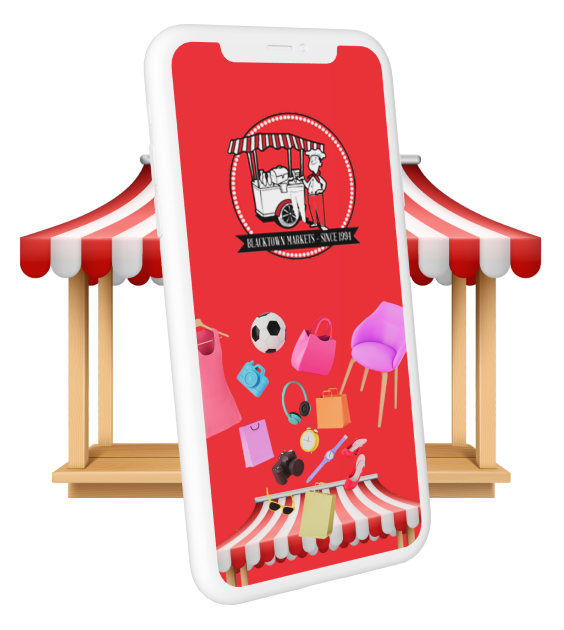 Come shop in the
Largest Marketplace in Australia
Unlock exclusive features when you download the
Blacktown Marketplace app today!